INSIGHT By CLA IN Brighton

It's never been easier to give your patients more insight. Get the accuracy of heart rate variability, electromyography and thermography combined into a single number health score delivered with easy-to understand reports so you can show your patients the importance of chiropractic care in Brighton.
---
What is INSIGHT in Brighton
The INSiGHT neuroTECH combines our neurological scanning technology into a package designed to transform any size or style of practice.
Wireless technologies, cloud-based data security and instant results simplify scanning for both staff and doctors.
Designed to scan all ages, including infants.
Generates scan views and reports that simplify your communication.
I understand you may have come to our practice because you are experiencing some pain. Here at this office, we focus on the function of your central nervous system, which can be affected by subluxations or nerve interference. There are three primary branches of the CNS. One of them, the sensory nervous system, is responsible for transmitting pain signals to your brain. The sensory nervous system makes up a small part of the nervous system, approximately 8-10%, according to experts.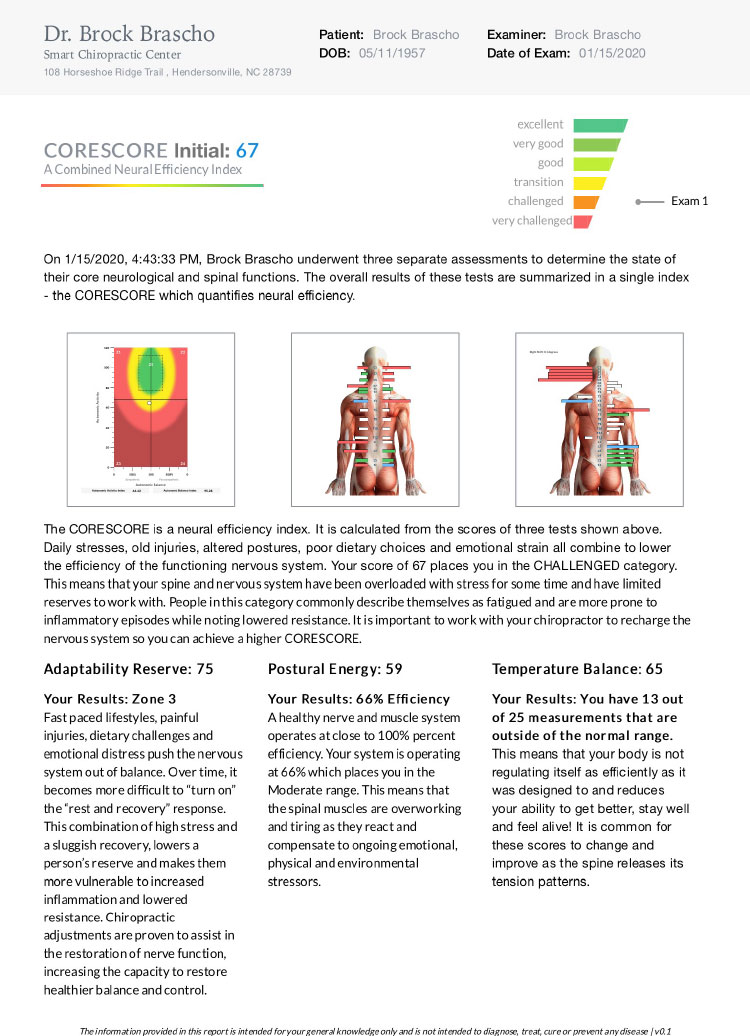 ---
Parts of the Exam
Part of our exam utilizes computer technologies that objectively measure the two more important branches of the central nervous system, called the autonomic and motor nervous systems. The autonomic system controls your organs, glands and blood vessels - all the functions you don't have to think about, like breathing. The autonomic system controls your immune system, your ability to deal with stress - I am sure you will agree that this part of the nervous system is very important. We here at this office agree, which is why we invested in the Insight thermal scanner, which measures temperature imbalance. Abnormal temperature imbalance, according to research done at Johns Hopkins University, is an indication of autonomic dysfunction.
A second test we performed to measure autonomic function is HRV, or heart rate variability. HRV helps us determine how well you can deal with the stress in your life. According to cardiology research, people with low HRV have an increased risk of heart disease, obesity, diabetes, aging, and death. According to a study done at Logan College, people under chiropractic care have higher HRV.
The third branch of the CNS is the motor nervous system, which consists of the motor nerves and your muscles. The motor nervous system controls your movement. We can measure your motor nervous system function by using the Insight surface EMG, which measures muscle tone. The tighter your muscles, the higher the EMG reading will be. We hope to see normal muscle tone and balance with this computerized test.
Now that you understand the importance of the central nervous system, and that there are 3 branches to the nervous system, do you think it is a good idea to base your health status on less than 10% of your nervous system function?
OFFICE HOURS
---
Monday
10:00am - 1:00pm
4:00pm - 5:30pm
---
Tuesday
10:00am - 1:00pm
4:00pm - 5:30pm
---
Wednesday
10:00am - 1:00pm
4:00pm - 5:30pm
---
Thursday
10:00am - 1:00pm
4:00pm - 5:30pm
---
Friday
10:00am - 1:00pm
---
Saturday
Closed
Brighton Spine and Wellness